bukan reksaksa goltron(ada ke reksakse nama ni?karang I cek balik with my nerd osarusan yek) mengamuk yek.
I want to go shopping...
uhuk uhuk
(T.T)
I need new pairs of jeans as my jeans dah koyak <-kesiannye~ and I didnt bought any pairs of it since erm....last year *gasp* I need a pair of straight boyfriend cut jeans and a *ahaks* pair of skinny jeans. lalalala~ dan nak jugak gladiator sandals yang aku dok salivating since last year. (ceh, bunyi macam dah lama xshopping. lama xshopping kasut yang lawa-lawa la) and a few pairs of nice pumps and heels. heels yang aku ada menyakitkan kaki.
kena beli platform pumps as they are way much comfortable than a normal one. nampak aja tebal tapi sangat best I tell you~
platform heels macam ni lah idaman hati.nampak aja tinggi tapi x tinggi pun.SERIOUS!
contoh-contoh gladiator sandals
TAPI! (a big tapi there) money problem. I can go out and spend my moolah as I do have some cash with me. but, thinking that I have to save
some
large amount of money for paying uni`s bill which will flying come to me next february, now I can jamu my eyes only.
in the internet. no outing.
sebab kalau outing, ternampak sales, mesti akan terbeli jugak.
paling koman, lingerie sepasang.
so baik aku dok diam-diam kat bilik, kemas bilik dan baca buku.
dah nak exam seh!!!!
dok diam-diam kat bilik/hostel/kosen jangan beli baju/kasut/lingerie/novel/manga/coklat.
simpan duit.
simpan duit.
dan study.
baca buku.
study.
study.
sampai gilos.
boleh?
tahan sikit je cik Ina oi!
karang dah setel uni sume-sume tu, dah dapat claim ngan pakcik JaaPA, kita pegi beli handbag/dompet mahal mahu?
coach ka LV ka.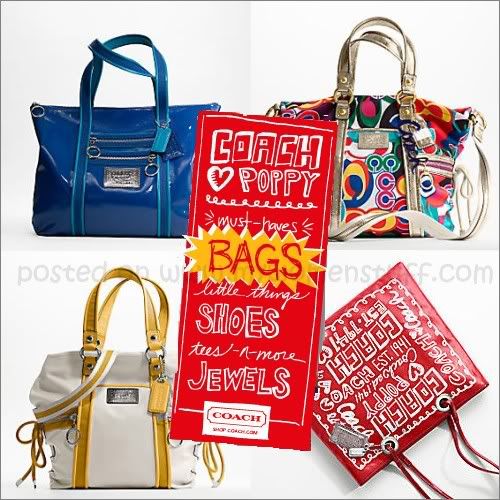 attention!! coach ni menjadi idaman hati except yang bawah kiri tu. yang merah tu sangat lah lawa kan? tulun belikan ini untuk hadiah harijadi aku tahun depan. okeh! thanks~
6 bulan aja.
tahan sikit je napsu nak berboros tu.
ingat-ingat la masa depan.
okeh?